Ingredients:
340g beef tenderloin
8 pieces of rice paper
1 carrot
1 cucumber
1/4 fuji apple
Raw vegetables of all kinds: Lettuce, basil, cilantro
Green onion, garlic, ginger, roasted white sesame
Sake, mirin
Kikkoman soy sauce, sesame oil, Korean paprika, pepper, sugar
Tools for making: Grill, knife, bowl, cup, fork, tongs…
Instrucitons:
Step 1: Prepare Ingredients
The beef you wash, then pat dry with a tissue, then cut the beef into pieces about 1/2 knuckle thick, about 2 knuckles wide. Carrots are peeled, washed and thinly sliced. Cucumber you wash, thinly sliced.
The white head of the green onion is cut into small pieces and soaked in ice water for about 3-5 minutes, then removed and drained, the green leaves are cut into small pieces. Lettuce, basil, coriander, remove the damaged leaves, wash with water and then dry.
Step 2: Make the Sauce and Marinate the Beef
You put in a bowl 120ml Kikkoman soy sauce, 1/2 teaspoon sesame oil, 2 tablespoons Sake, 2 tablespoons mirin, 3 tablespoons sugar, 1/2 teaspoon Korean paprika, 1/4 teaspoon pepper coffee, 1 tablespoon roasted sesame, 1/4 small grated apple, 1/2 teaspoon minced garlic, 1 teaspoon grated ginger and stir well to finish the marinade.
Arrange the beef on a plate, then sprinkle 1/2 of the marinade evenly over the surface of the beef.
Step 3: Grilled Beef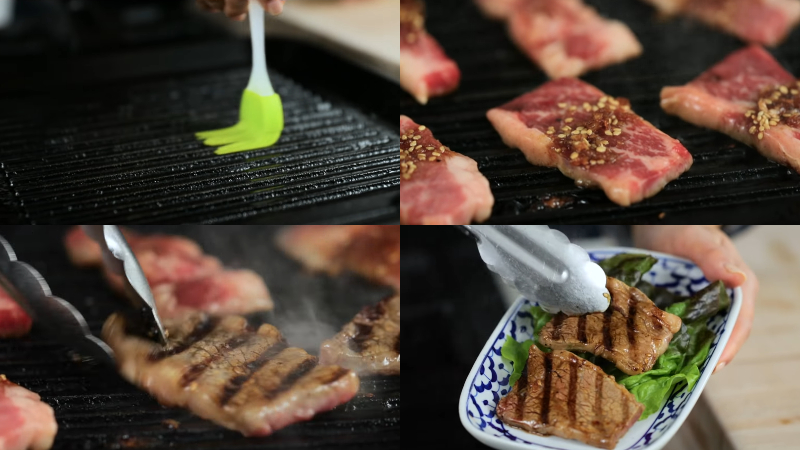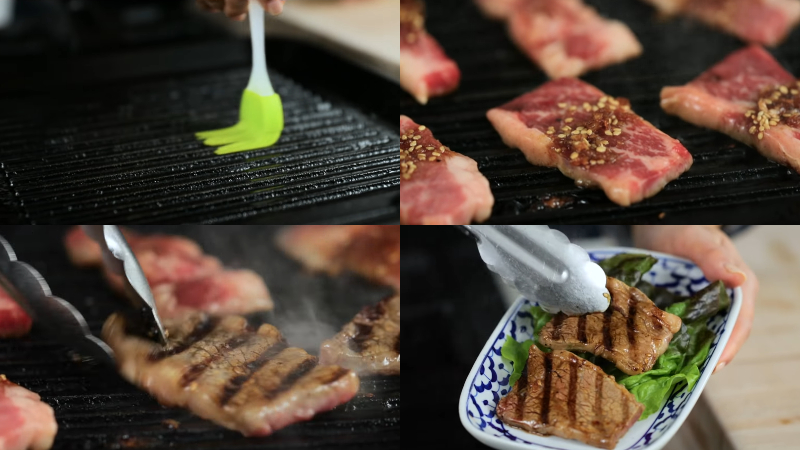 You heat the grill and brush a layer of cooking oil on the stovetop, then put the meat on the grill for about 5 minutes to cook evenly on both sides, when the meat is cooked, quickly remove the meat to a plate (when the meat is finished, leave the pieces intact). You need to cut it small.)
Step 3: Salad Rolls
You dip the rice paper into the bowl of water for 2-3 seconds, then put the cake on the plate. You in turn put on the cake: Lettuce, carrot, cucumber, grilled beef, white head of scallions, chopped scallions and folded 2 sides of the cake, then you roll the cake to about 2/3 of the cake. Roll the cake, you add cilantro, basil and roll until the end of the cake is done.
You cut the beef salad roll in half, put the remaining marinade in a cup and enjoy.
Finished Product:
The delicious grilled beef salad with tender beef is cooked until it's not too chewy, served with fresh green vegetables and specially made with a standard dipping sauce, making the grilled beef salad even more amazing!